What is Medicare and what does it cover?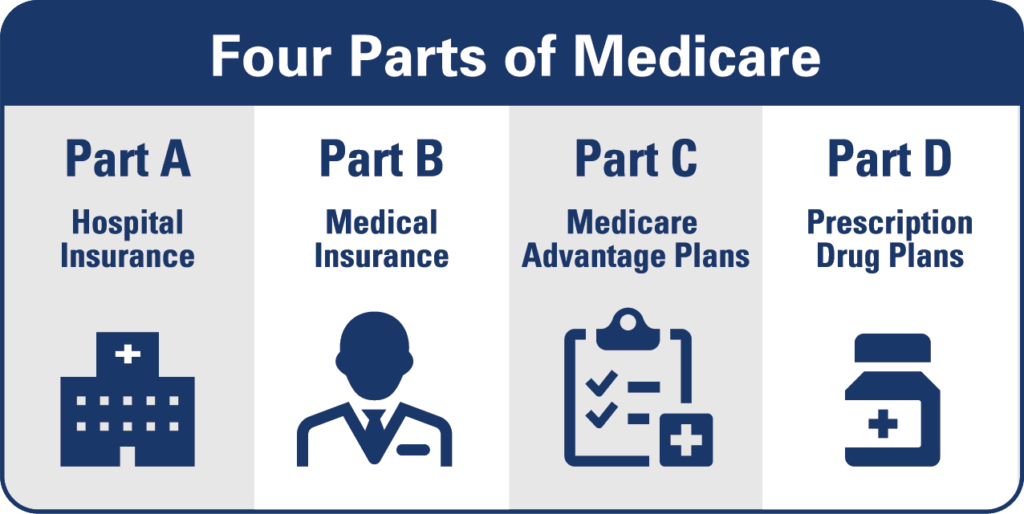 Medicare is the United States national health insurance program for people 65 and older. It is also for people with certain disabilities or end-stage kidney failure. This program is divided into four parts (A-D), and it's important to learn how these fit together in order to choose the right coverage plan.
Part A
Coverage: Part A is, in essence, hospital insurance. It will help cover the cost of inpatient care and skilled nursing facility stays, as well as hospice and home health care. Part A covers your accommodations, but does NOT cover a lot of the actual treatment…that is covered by Part B.
Cost: For most people turning 65, Part A is $0 per month because you have been paying into the program while you were working. Anyone who has contributed to Medicare for 40 quarters or more is eligible for $0 Part A. If you paid Medicare taxes for less than 40 quarters, you would be required to pay a Part A premium, which can be expensive.
Part B
Coverage: Part B is your outpatient medical coverage, which is a broad category that includes almost everything outside of your inpatient hospital coverage – doctor's visits, lab work, surgeries, cancer therapy, kidney dialysis, etc.
Cost: The cost of Part B changes from year to year and depends on your income bracket. Your premium is calculated by the adjusted gross income you reported to the IRS in recent years. The table below illustrates the breakdown for 2020.
Part C
Coverage: Part C is more commonly known as the Medicare Advantage program which, unlike Original Medicare, is private insurance. Medicare Advantage plans cover everything that would ordinarily be included with Part A and Part B. In addition, many Advantage plans include benefits not seen under Original Medicare, including dental, vision and prescription drug coverage. In order to enroll in an Advantage plan, you must already be enrolled in Medicare Part A and Part B. Since it is a network-based plan, you would also have to live in the plan's service area.
Once enrolled in an Advantage plan, your coverage comes from the carrier, not the government, and you will be disenrolled from Original Medicare.
Cost: The cost of Advantage plans can vary widely depending on the benefits included and the area you live in, with some premiums as low as $0 per month.
Part D
Coverage: Part D covers your prescription drugs, which you can either pick up at a pharmacy or have delivered to you through mail order. Every prescription drug plan has its own formulary, which includes the drugs, tiers, copays and coinsurance unique to that plan. Your costs can also be impacted by the pharmacy you go to, as many carriers have "preferred" pharmacies. The effect on your out-of-pocket costs can be significant, so we're happy to provide a complimentary prescription drug analysis to help figure out the best plan for you.
Cost: Depending on which phase you are in, your costs for your drugs will vary. In most cases, you will be responsible for paying a plan deductible and then copays and coinsurance that will vary depending on how much you have spent out of pocket in a given year.
Medicare vs Medicaid
One of the questions we hear all the time is, "What is Medicare vs Medicaid?"  By definition, Medicare is a health insurance program for the elderly. Medicaid, on the other hand, is financial and/or health care assistance for low-income individuals. Some people 65 and older can qualify for both. In that scenario, Medicare is considered primary and Medicaid is secondary.
The government has several savings programs you can apply for through your state's Medicaid office. These may help you pay your Part B premiums as well as provide drug plan assistance. Check with your state's Medicaid office to see if you qualify.